Gas-Insulated Switchgear (GIS) NXPLUS C for rated voltages of 20/10(6) kV, up to 2500A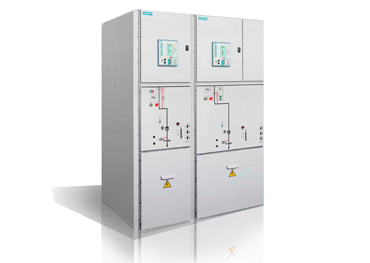 Fixed-mounted circuit-breaker switchgear NXPLUS C is factory-assembled, type-tested and certified, metal-enclosed, SF6-insulated switchgear with metallic partitions for single and double-busbar applications for indoor installation. It is used in medium-sized transformer and switching substations of power supply companies, power stations and industry. Ideally suited for areas with high exposure to dust as it is insensitive to certain aggressive ambient conditions, such as: saline air, air humidity, dust and condensation.
Customer benefit features
Modular Design
Individual panels and panel blocks can be lined up and extended at will – without gas work on site
Low-voltage compartment available in 3 overall heights, wiring to the panel via plug connectors.
Security of Operation and Service Life
Maintenance-free during the expected service lifespan of the gas-insulated switchgear NXPLUS C of at least 35 years
Easy to maintain due to the ergonomic design
The NXPLUS C switchgear is suitable for application in indoor installations under normal operating conditions for the temperatures of –5 °C up to +55 °C
Minimized space requirements (reduced building investments) due to compact design
Current and voltage transformers can be mounted both on the busbar and at the switchgear housing
Installation, operation, extension and replacement without SF6 gas work
Personal Safety
Safe-to-touch and hermetically sealed primary enclosure
High resistance to internal arcs by logical mechanical interlocks and tested switchgear enclosure
Operating mechanisms and auxiliary switches safely accessible outside the primary enclosure (switchgear vessel)
Panels tested for resistance to internal faults up to 31.5 kA
Logical mechanical interlocks prevent maloperation
Three-position switch-disconnector to exclude the maloperation
Phase-to-phase busbar insulation.
Product Design
Metal housing with galvanic coating, mounted on the framework rack with galvanized rack sections
Standard degree of protection IP 65 for all high-voltage parts of the primary circuit, IP 3XD for the switchgear enclosure
Hermetic tightness of switchgear vessel, a central part of the cubicle, is assured by its special design, providing for temperature compensation, and thorough welding of all the joints
For the ready-for-service indicator, a gas-tight measurement box is installed inside the switchgear vessel. Vacuum interrupter of circuit-breaker, three-position switch and conductor are encased in the switchgear vessel and fuse assembly is connected to the three-position switch-disconnector via welded-in bushings and connecting bars
Vacuum circuit-breaker is mounted permanently and has a special design due to the necessity to apply the vacuum interrupters inside the hermetically welded switchgear vessel. Its technical data and equipment correspond with those of other standard switchgear circuit-breakers. Operating mechanism of the vacuum circuit-breaker and the actuators of the three-position switch are located outside the switchgear vessel and are maintenance-free under normal ambient conditions for the service lifespan.
Saves Money
Thanks to the use of SF6 insulation, compact dimensions are possible
Compact modular design due to free current and voltage instrument transformers installation in
Installation and extension of existing switchgear at both ends without gas work and
without modification of existing panels
Maintenance-free for the expected service lifespan.
Documentation: