Low Voltage Switchboards up to 6300A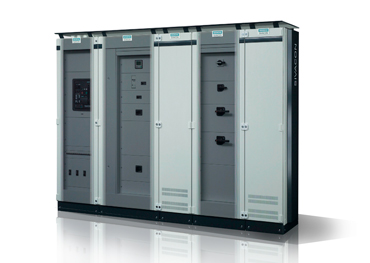 SIVACON S4 is a type-tested low-voltage indoor switchgear and controlgear assembly (TTA), which is used in the infrastructural power supply in administrative and utility buildings as well as in industrial and commercial buildings. The SIVACON S4 low-voltage power-distribution board concept is very safe and reliable.
Customer benefit features
SIVACON S4 is enclosed on all sides and is encased in sheet steel. It features a modular design principle. Using standardized, mass-produced assemblies, reflecting the building's requirements, and thanks to the great opportunity to combine SIVACON S4 module technology, every possible need can be met to optimum effect in the area of low-voltage power distribution
The basic module is the framework rack, comprising height, width and depth rails. It is the supporting structure for all modules which are inserted or mounted on. By using sendzimirgalvanized rack sections and thread-forming screws, a structure is achieved with high mechanical stability, and the installed modules are safely earthed
Available with rack heights of up to 2000 mm, base panel heights of 100, 200 mm, rack widths of 350, 400, 600, 800, 850, 1000, 1200 mm and rack depths of 400, 600, 800 mm. Four variants of interior subdivision possible
The enclosure parts enable it to be designed to the degrees of protection IP30/31, IP40/41 or IP55
The door hinges construction allows the doors to be open at both sides
The rack enables the installation of various types of busbars with rated current up to 6300 A, short circuit current of the transformer substations resistant, with variable earthing of the N-conductor (TN-C, TN-S, IT, TT), as well as the installation of cascaded (up to 1600 A) and non-cascaded (up to 2700 A) vertical distribution busbars.
Documentation