Gas-insulated Switchgear KORUS type for rated voltages of 20/10(6) kV up to 1250 A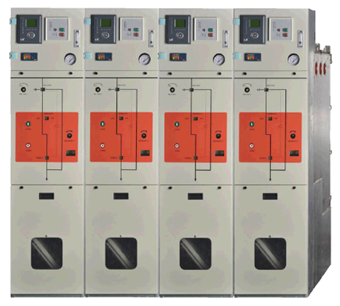 Gas-insulated switchgear KORUS type is factory-assembled, metal-enclosed, SF6-insulated switchgear for rated voltages of 20/10(6) kV up to 1250 A. Hermetically sealed for service life switchgear vessel, enclosing vacuum circuit-breaker and three-position disconnectors and earthing switches. GIS KORUS type is type-tested, cerified in Russian Federation and used in transformer and switching substations of public and industrial energy systems.
Basic Technical Data
Parameter
Value
Rated voltage kV
10
Maximum operating voltage kV
12
Rated frequency Hz
50
Rated normal current of feeders A
630; 1250
Rated normal current of busbar A
1250
Rated short-time withstand current for the disconnector panel кА
up to 25
Dielectric strength according to GOST 1516.1-76
Standard, class "B"
Climate influences and service location
Temperate climate, indoor installation, natural ventilation
Maintenance
Metal-enclosed switchgear, Single-end service
Degree of protection for switchgear enclosure according to GOST 14254-96: During operation, compartments closed Relay bays open
At least IP3X
Withdrawable parts
Fixed circuit breaker
Compartment doors in the withdrawable parts
No withdrawable parts
High-voltage parts of the primary circuit connection type
Cable, busbar
Process control
Locally by control board, remote terminal unit possible
Rated voltage for the auxiliary and control circuits kV DC / AC
110 / 220
Dimensions in mm:
Width
Panel width
Panel height
Panel depth

600\550
1100
2000
900
Customer benefit features
Safe-to-touch, any contact with live parts by accident ruled out
Maintenance-free during the expected service life of 35 years, reduced operating costs
Reliable and easy to operate and maintain due to the ergonomic design
Minimized space requirements due to compact panel design
Insensitive to certain aggressive ambient conditions, such as dust, pollution, air humidity (up to 98%) and condensation
Installation, operation, extension and replacement without SF6 gas work.
Documentation: